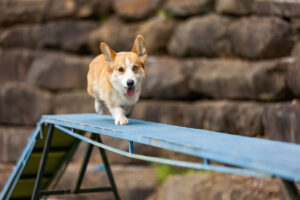 We are excited to offer agility courses at Cahaba Beach Dog Park in the Inverness area! Instructor Ally Gibson competes in agility trials all over the country and is currently competing with Tai, a corgi, at the Master level. Ally would love to help you and your dog bond through dog sports!
Agility Foundations – ages 6 months and up
Have you seen agility on TV and wondered if your dog has what it takes? Agility Foundations is a 6 week course that will take you through the basics! Not only is agility fun, it's a problem-solving sport for both handler and dog that will allow you to deepen your communication and bond. This course is for both the curious agility student as well as students who are interested in competing. Curriculum includes exercises with all equipment (jumps, tunnels, weaves, contacts), basic sequences, agility handling skills, and more. At the end of the 6 weeks, we will run a full course!
Foundations pricing:
$210 for 6 weeks
Register Here for Agility Foundations!
Agility Level 2 – ages 8 months and up
If you've successfully completed Agility Foundations, you and your pup are ready to move on to level 2! Our level 2 agility program is structured as a series of one-on-one lessons, so that you and your dog can focus more intentionally on common problem areas and so that you – the handler – can learn additional transitions and footwork between obstacles. Are you ready to move onto the next step with your future agility star?
Pricing for level 2 & up:
1 lesson for $85
4 lessons for $295
6 lessons for $380
***Please Note: Class is held outdoors — schedule is dependent on the weather. This location has stairs and is not handicap accessible.
Don't see a date and time that works for you? Contact rebecca@lovethemtrainthem.com and ask about private agility lessons!