---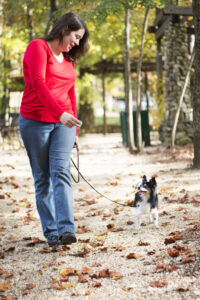 Rebecca is a teacher first and a dog trainer second. She believes that in order to have a well-behaved dog, it is the owner who must be taught first. Rebecca thrives on interaction with both people and pets and brings passion and determination to her work. She believes that every dog has potential, no matter the age or breed, and that if it can be done, it can be done using positive methods. Rebecca has been training dogs professionally for 17 years and does not subscribe to the use of force or intimidation. Training is about a bond of trust and love between dog and handler.
Rebecca and her team offer unparalleled, comprehensive support to their students, including digital homework with step-by-step instructions, training videos, and helpful tips and reminders. Besides the training that her clients receive during their sessions, Rebecca also provides unlimited email support to ensure that every person gets more than their money's worth.
Rebecca is both a Certified Professional Dog Trainer (CPDT-KA) and Certified Trick Dog Instructor (CTDI). She holds a Masters in Education and is a member of the Pet Professional Guild. Rebecca is an AKC Canine Good Citizen Evaluator, offering both CGC and Trick Dog title testing. She has written for Bham Pets magazine and Birmingham Parent magazine. Rebecca is also an Associate Nose Work Instructor (ANWI) with the National Association of Canine Scent Work and is pursuing full certification as a CNWI. She is committed to continuing education, and her passion is working with families to help them channel their dogs' energy positively.
Meanwhile, Rebecca enjoys spending time with her son Micah, her two cats, her 18+ year old chihuahua, Jacques. She is active in K9 Nose Work classes with Jacques, who has received multiple AKC Scent Work Excellent titles along with his NACSW Level 1 Interiors title. Rebecca and her team are committed to their clients, both canine and human. We would love to help you achieve your goals for your best friend!