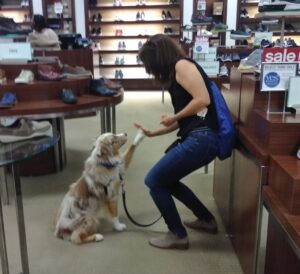 Therapy dogs must navigate schools, hospitals, and nursing homes, remaining unfazed by shiny floors, bright lights, things that roll, and the "big scary"… elevators! Our outings class is the second in a series of courses designed to prepare pets for therapy work in the community and all that comes with it.
Therapy Prep II is now designed as individual outings which may be signed up for one at a time, or you can join us for multiple outings! Teams will visit different pet-friendly locations to practice their obedience skills and learn to problem-solve their way through everyday situations and challenges. This class is limited to four students and will be facilitated by two of our trainers to ensure that each team receives the proper amount of coaching needed to succeed. Class typically meets on Friday or Saturday. (Prerequisite: Therapy Prep I).
Upcoming Start Dates:
Outings are scheduled periodically based on demand. Email rebecca@lovethemtrainthem.com to participate!