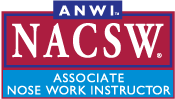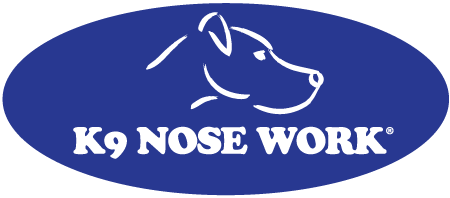 NEW! – K9 Nose Work with our head trainer, Rebecca Mason
View Class Listings Here! Classes will be held off of Morgan Road in the Bessemer area and are $200 / 6 wks.
If no seats are available, please email rebecca@lovethemtrainthem.com to be added to the wait list for future classes.
K9 Nose Work is a fascinating, addictive sport that you and your dog can do together, regardless of age, breed, or size! It's low-impact, which makes it great for seniors, but it's also ideal for active, bored dogs who need a mental job! Even better, it's a great way to build confidence in dogs who are timid and slow to trust.
In class, we begin by having the dogs search for food in boxes. As they gain confidence and fully understand the "game," they progress to searching for target odor (birch, anise, or clove). Searches can be indoors or outdoors, in containers, or on a vehicle.
Since only one dog searches at a time, reactive dogs (with no bite history) are welcome to participate! The class structure is set up so that ideally the dogs will not see one another at all during the course of the 90 minutes we are together each week. Dogs will be crated in their cars until it is their turn to search. Handlers are encouraged to watch one another's searches so that they can learn from each other!
Rebecca is an Associate Nose Work instructor (ANWI) with the National Association of Canine Scent Work and has been taking K9 Nose Work classes with her dog Jacques, an 18 year old chihuahua, for approximately 8-9 years.